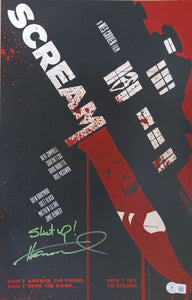 Henry Winkler Signed Scream Alternative Poster 11x17 Autograph Photo Beckett COA
This autograph was obtained at our recent private signing with Henry Winkler, then authenticated by Beckett with a hologram.
From the 1997 movie Scream, 11x17 photograph signed by Henry Winkler.

We do private signings with Henry on a regular basis. If there is a certain item you want signed, please let me know. 
Henry Winkler is an American actor, comedian, author, executive producer, and director. Initially rising to fame as Arthur "Fonzie" Fonzarelli on the American television series Happy Days, Winkler has distinguished himself as a character actor for roles such as Arthur Himbry in Scream, Coach Klein in Adam Sandler's The Waterboy, Barry Zuckerkorn in Arrested Development, Dr. Saperstein in Parks and Recreation, Eddie R. Lawson in Royal Pains, Fritz in Monsters at Work, Uncle Joe in The French Dispatch, and Gene Cousineau in Barry.
Previous Autograph Signings - Ralph Macchio (Karate Kid / Cobra Kai), Costas Mandylor (SAW), Jeremy Bulloch (Boba Fett), Michael Carter (Bib Fortuna), Paul Blake (Greedo) Garrick Hagon (Biggs), Peter Mayhew (Chewbacca) and Steve Blum (Zeb)